屋上のある家 / Rooftop House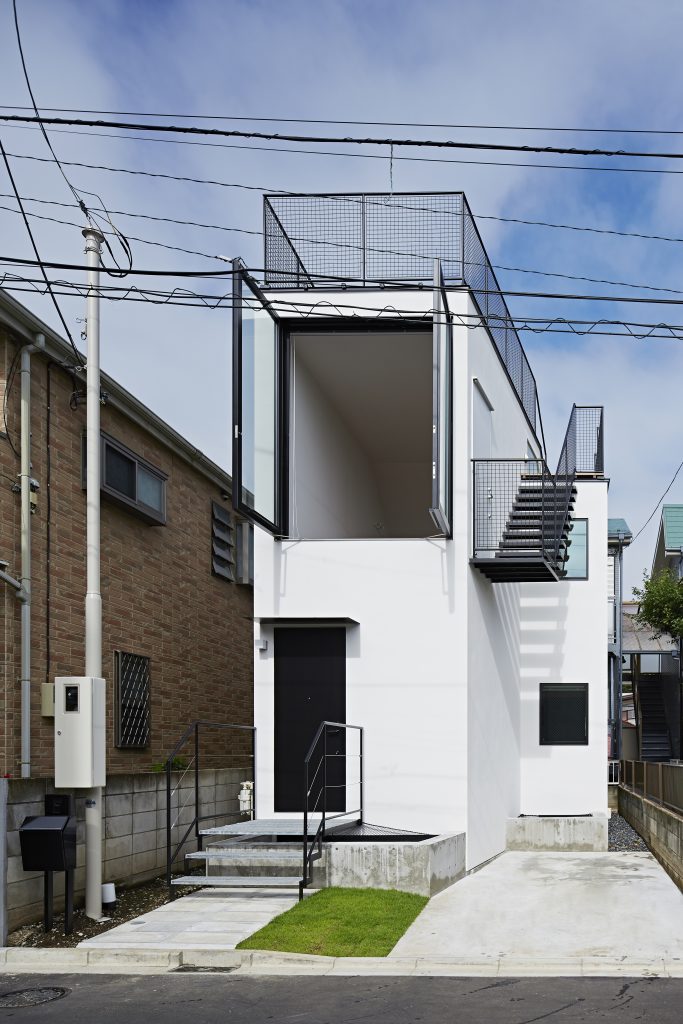 所在地:東京都世田谷区
敷地面積:59.82㎡(18.13坪)
建築面積:23.60㎡(7.14坪)
延床面積:70.38㎡(21.29坪)
用途/規模:一戸建住宅 / 木造+RC造 地上2階+地下1階
竣工:2014年
設計監理:アナザーアパートメント株式会社
構造設計:金子武史構造設計事務所
施工:株式会社 匠陽
写真:鳥村綱一
建物が建つのは、面積60㎡たらず、法条件も厳しい小さな敷地です。
ここに家の内外が緩やかにつながる伸びやかな住宅をつくりたいと考えました。
建物は、地下1階、地上2階、屋上の4層からなります。
法条件の厳しい街区では、建物サイズは多くの場合法律で規定され、同じような高さの建物が建ち並びます。そこで、屋上は眺望や風通しのよい魅力的な空間となるわけです。この住宅の屋上からは、公園の緑や花火大会、はるか遠方の景色まで見渡すことができ、季節の移ろいや自然を感じることができます。
2階リビングには大きな両開きの窓を設けました。窓を開けると、家の内外がつながる心地のよい空間となります。屋上へは外階段で直接つながるので、頭上にも地面があるような不思議な安心感が得られます。
地盤面に近い1階や地下では、いつもなんとなく地面や街を感じます。床全面が土間で住宅内外の中間的な雰囲気の1階、ドライエリアから外部を感じる地下は、使い方を限定せず暮らしの変化を柔軟に受け止めるおおらかな場です。
それぞれの場所がそれぞれの振舞いを担うことで、家と街、中と外が無理なくつながる住宅になると考えました。
---
While the site of this building is small—about 60 sqm in size, applied with strict regulations—it is a commonly found small lot in a residential area in Tokyo.
Although it is not allowed to build a large building according to the regulation, there are many blank spaces or voids created by surrounding buildings restricted in a similar scale. By bringing in such a void into this building, we thought about producing an unconstrained house even for its minute scale, providing a sense of freedom to go in and out of the building at will.
The building is configured in 4 layers, with a basement, 1st floor, 2nd floor, and a rooftop.
We have always considered about making a good use of rooftop if designing a building in an urban residential area. Building size is often constrained by regulations in a city block applied with strict legal requirements. As a result, buildings with similar scale and height line up around such areas. For maximizing the opportunities and possibilities of such urban areas, rooftop becomes a very effective space to utilize. The rooftop, as if uplifted from a wood deck, allows residents to feel the nature and transition of seasons by the surrounding scenery or the wind going through the rooftop, even though the building is situated within an urban residential area.
There is an almost oversized opening for a living room on the 2nd floor level. When it opens by the double swinging windows, the opening brings in the daylight and wind into the room, and even creates effect as if bringing in the exterior space into the building. Furthermore, the rooftop is directly connected through an exterior staircase, so that the residents would feel a unique sense of security and stability within the living room as if there'd be another ground surface above the head.
At the layers near the ground level—on the 1st floor or the basement, the residents can always feel near to the ground or the soil. The 1st floor level with an entrance and earthen floor has a sense of in-between space of interior and exterior, and the basement level allows residents to feel outside loosely through a dry area. Those are provided as generous spaces without limiting the purposes and usages, in order to flexibly apply changes in lifestyles.
We thought a building and its surrounding residential area, or the inside and the outside of the building, can be comfortably related and connected, even through a small house built on a minimum lot within an urban area, if each layer plays a particular role with its own nature and functionality.